Attention Registered Engineers (REs) !
Engineering Practice Examination (EPE)
PEC Announces 22nd Engineering Practice Examination (EPE) for Registered Engineers (RE) to elevate their title to "Professional Engineer (PE)" who have graduated on or after January 15, 2008. Last date to apply online is October 06, 2023 and the exam will be conducted on November 05,2023


Eligibility Criteria:
Graduated on or after 15

th

January 2008.
5 years of practical experience in relevant field of engineering since registration with PEC till closing date of submission of applications.
17 CPD points (Maximum 10 CPD points from work/ job experience and 07 CPD points from other categories of CPD).
Online Application Forms (Click below relevant link):
Important Note:-


As per decision taken by the PEC Governing Body (GB) all Registered Engineers who are graduated before 15th January 2008 are eligible to apply for the title of Professional Engineer (PE) without appearing in EPE through following link.
Important Links:
For any query, please email on epe@pec.org.pk
or Contact us: 051-9219500, 051-9206974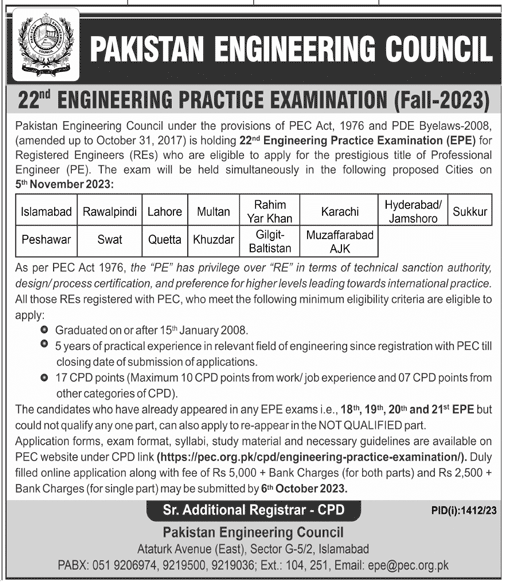 For New Candidates
For Not Qualified Candidates
Note:
Filling/ Submission of both Application in Hard Form and Google form is mandatory for all New and Not Qualified Candidates.